Large Raffle Ticket Template 2
This large raffle ticket template prints 4 up on standard letter sized paper (8 1/2″ x 11″)
Finished size is 2 3/4″ x 8 1/2″ with a 2″ stub
Tickets are numbered on the stub and on the far right of main part of ticket
If you want to use this size raffle ticket, be sure to order Large Raffle Ticket Paper which come in packs of 1000 tickets (250 sheets).
Raffle Ticket Paper is inkjet, laser, copier and offset press compatible
Consecutive Numbering options for Large Raffle Tickets Include:
01 – 1000
1001 – 2000
2001 – 3000
3001 – 4000
This will allow you to print only the amount you need, start with a pack of 1000, if you see you are going to sell more than 1000 order an additional pack numbered 1001 – 2000 and so on.
Each raffle ticket paper pack include extra make-ready sheets and are available in several different colors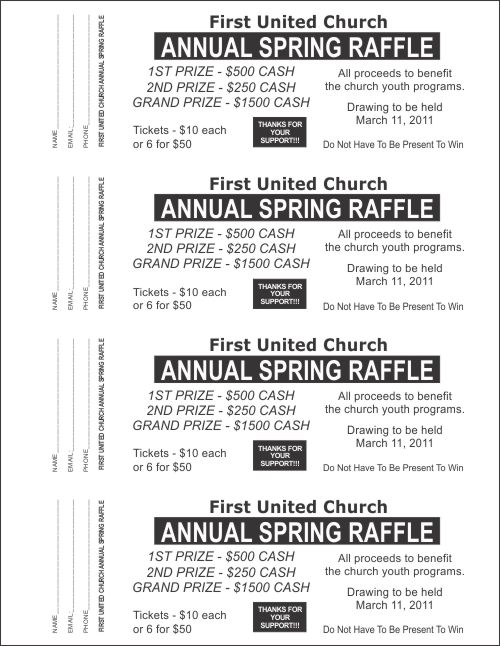 Large Raffle Ticket Template #2 – Printed 4 Up
Download Large Raffle Ticket Template #2
Where can I buy raffle ticket paper for these templates?
When I worked in our family owned printing business, we were resellers of BlanksUSA products. They are a reputable company and offer paper for these tickets.
If you are printing on a laser or inkjet printer, I recommend using the 65 lb. Timberline cover. It is available in several colors.
You can order from them here
The paper for these templates is listed at the bottom of the page – size – 2.75″ x 8.5″, 01-1000 Consecutive, 4-up.
I am not being compensated in any way from the above link, it is simply a courtesy for those who use our free templates.